Guide To Purchasing Goods At Zero Rated VAT
GUIDE TO PURCHASING PRODUCTS AT ZERO RATE OF VAT
You do not have to pay VAT on certain eligible items on our Web Site if you have a long term illness or disability.

You will need to indicate this by ticking the box next to EACH product that you are claiming VAT exemption for.

A CHECK BOX will appear within the shopping basket next to all products that can be VAT exemptable.

The VAT will only be removed for these products that have been checked / ticked. (SEE EXAMPLE BELOW)

Please note that VAT still applies to the delivery charge regardless.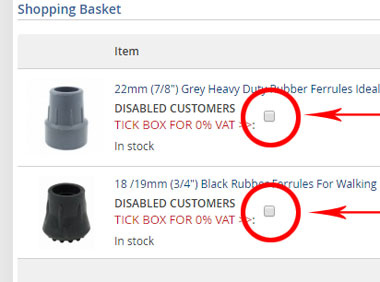 TO PURCHASE AN ITEM AT 0% RATE OF VAT CERTAIN CONDITIONS MUST BE MET.
The first is that the item itself must be eligible to be supplied at 0% rate of VAT.
Second, the person that the item is for, and not necessarily the person purchasing the item (because in most cases you may be purchasing on behalf of some one else) must meet the conditions below :
must have a long term condition or

be classified as long term chronically sick or disabled

and the item must be for the persons domestic or personal use.
If you (or the person you are buying for) meet these conditions then you can purchase the item at a 0% rate of VAT.
IT IS IMPORTANT TO NOTE:
You do not need to provide any physical proof, be a blue badge holder, be registered disabled or be on any disability benefits to qualify for a 0% rate of supply. You don't even need note from your doctor.
Please Note: Temporary illnesses, injuries and conditions do not apply for VAT exemption.
If you are in any doubt as to your status, please check with your local Customs and Excise VAT office who will be able to confirm your eligibility.